The Uncle Walt's Insider step-planDisney (Step)Moms answer your real questions with their own totally reliable advice. [Lawyer-mandated disclaimer: do NOT rely on this advice. Our panel of experts may or may not be actual stepmoms, but they are definitely evil.]
"Dear step-planDisney (Step)Moms: It's hard to believe the holiday season is upon us again! What are some of your favorite things to do or enjoy in Disney (or other) theme parks during the holidays?" – Kris K., Lapland
Bob (Bob) Chapek:
I like to sit back and watch the revenue from all the new upcharges roll in, and count the shiny dimes…. 
Walt:
NO! You do NOT work here, Chapek! Get out!!! 
Marty:
Crisp, thank you for writing the step-planDisney panel (Step)Moms! I love the decorations, the new varieties of churros, and the look on Bob Chapek's face every time we kick him out.
How does he keep getting in here, anyway?
Walt:
Hi Lucy, thanks for writing. Right now there is a coalition of people trying to ban Christmas decorations before Thanksgiving. And to them, I say bah-humbug!
I thought Marty was on board with early decorations, because he had a tree up all of the time in his office. Turns out it was a branch from the tree outside that somehow busted through the window.
So we solved two mysteries: 1) why there is a draft in my office, 2) why Marty kept complaining about it being cold and trying to get more than once piece of coal from me a day, and 3) how Chapek got in. Then again, I don't recall that tree or window until Chapek showed up.
Marty:
Ohhh, okay. That also explains why Chapek left us a bill charging us for 'Magical Ventilation.' I'll stop payment. 
Harriet:
Just don't go to Walt Disney World during the holidays. There are already enough people there without you.
Ub:
Hi Lapband. Thank you for writing to the step-plan(step)Disney (step) planMoms.
Here at the step-pan(step)Disney (step) planMoms HQ, we love celebrating in the snow. And that's good, because this time of year in Svalbard, we have lots, and lots, and lots of snow.
Now, many sane people do the opposite of us, where they will summer in places like northern Norway, and winter in Florida. We, on the other hand, go for the extremes. Walt, for one, enjoys the almost 200ºF (160ºC) temperature and humidity swings.
Marty loves jumping off cliffs into the deep snow and making snow angels, only to head to Central Florida to make sure he keeps his tan. Of course, in the ten months he's in Svalbard, he loses it and gets a sunburn every July. Full-body because he spends his first day at Playalinda Beach. [Ed.: We apologize for this mental image.]
And then X wears shorts all winter.
So if you're reading this, please send churros.
Bob (Bob) Chapek:
I love people using the coin press machine at the Newsstand. I love people renting lockers at the front of the parks. I love people renting ECVs and strollers for the day (did you know that those things are almost pure profit?). Then there's the next coin press at the Walt Disney World Railroad, and the Capture Your Moment at Box Office Gifts, the first real chance to do some shopping inside the Magic Kingdom.
Next, I love people who take in a meal at Tony's Town Square Restaurant. From there, I love people shopping at Emporium and getting their hair cut at the Harmony Barber Shop. I love people shopping at the Main Street Confectionary, Vault Collection, Main Street Cinema, and Crystal Arts. Across Main Street, there's more for people to buy (at extensive markup) at Disney Clothiers, and by about that time, if they're spending the time and money they should be (we reckon it's about 2pm), it's definitely time for a snack at the Main Street Bakery or Casey's Corner.
There's nothing worth mentioning in the Hub, but if you turn right into Tomorrowland, there's the Buzz Lightyear's Space Ranger Spin Photo and Merchant of Venus. Star Traders has some great markups on their merchandise, and by then it's time for a well-marked-up treat at Auntie Gravity's Galactic Goodies. From there, I say your next stop should be Big Top Souvenirs just inside Toon Town, and while you're there make sure to visit Casey Jr. RailRoad Mercantile. Then go to Bonjour! Village Gifts, and that should cover your first day at the parks.
But the best part of doing as I say? There are no lines to get in like there are on the attractions (which are all included in the price of your ticket) (for now). (As soon as we start charging for each individual attraction, I'll revise this list.)
But for now… these are a few of my favorite things.
Marty:
Walt, he's back again…
Walt:
Didn't notice, I'm at Walt Disney World. Wow! This place is expensive! Quick, run more ads and wire me the money before Chapek raises the price of churros while I'm in line!
X:
Walt, quit pretending to be Bob [Ed.: "Bob"] Chapek as you write responses to the step plan panel questions. Your ego isn't big enough for that kind of nonsense.
Anyways… Holidays at Disney. I always like to go to the holiday store at Disney Springs and look at all the merchandise on the Hanukkah half-shelf. And that's about the extent of my holiday tradition at WDW.
Walt:
Oh no, Bob "Bob" Chapek has gotten to X! I hope he's not paying him! I'd be more concerned, but again, I'm at Walt Disney World. Now, if only there was someone qualified to sift through a mound of evidence… oh well, Marty I guess you'll have to deal with it.
Marty:
Paying him? That can't be Chapek. Chapek would be charging him.
Bob "Bob" Chapek:
You are all fired.
Grogu: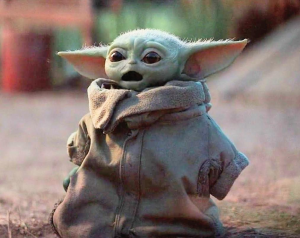 Do you have a question for the step-planDisney (Step)Moms? Click here to submit a question!
Need more Uncle Walt's in your life? Be sure to LIKE us on Facebook, FOLLOW us on Twitter, and tell everyone you know (plus a few strangers) how wonderful (and humble) we are!.