Our little-known facts series continues, in spite of underwhelming demand!
It's a hotel! It's a spaceship! It's a hotel! No, it's a spaceship!
Settle down, there's no need to argue. It's a hotel and a (pretend) spaceship! And whatever you think of Walt Disney World's new Star Wars: Galactic Starcruiser, we can all agree on one thing: it's #%&$ ing expensive.
But do you know everything there is to know about this "space cruise" experience? We at Uncle Walt's Insider do, of course! So read on for some incredible, newly -written -discovered trivia about Disney's Star Wars: Galactic Starcruiser!
You don't actually go to space.
This is the same thing that disappointed us about Galaxy's Edge and the Space 220 restaurant.
All cruises include a day at Castaway Cay, Disney's private island.
And a photo op with Captain Jack Sparrow in his space pirate outfit.
While the price for a cruise seems expensive, it is much cheaper than buying a house, or having major surgery without medical insurance. 
Or, for that matter, having major surgery with medical insurance. It's all about perspective.
The ships registry is Hoth, s

o any children conceived aboard the ship can claim Hothian citizenship.
They sell infant snowsuits in the shops.
The ship's captain can marry you and your partner.
However, the marriage will only be valid a long time ago, in a galaxy far, far away.
Don't order the calamari.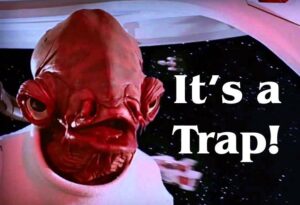 If you want to receive deliveries while onboard, you have to pay for Amazon Warp.
And it is not included in your Prime subscription.
The preflight safety video is narrated by ice skater Dorothy Hamill. 
Apparently the casting director just said "get Hamill for this", and didn't specify that he wanted Mark Hamill.
There are subtle touches that remind you of your home on Earth.
For example, the elevators on the ship all play 'The Girl from Ipanema' as their background music.
On most cruise ships, paying extra for a balcony is a good deal. Not this one. 
It's actually just an airlock. 
Shouting "Go fish!" during a game of Sabacc will get you ejected. 
Not from the game, from the ship.
While the names of the food are exotic, the unusual colors are entirely natural.
The ingredients are taken from the dumpsters of other Walt Disney World restaurants.
For an evil Imperial leader, he sure can bake.
It's powered by solid hydrogen and can accelerate from 0-6000 in 60 seconds. So when you hear the words 'Go for launch,' you'll definitely want to hang on.   
Why do we hear Gary Sinise's voice saying this?
The building on Disney property is simply a sublight transport launch facility. Depending on the Starcruiser's location in the galaxy – or outside the galaxy – it may take several generations for your launch to reach the Starcruiser.  
So plan accordingly.
There's no phone, no lights, no motor cars. Not a single luxury.
Actually, that may have just been Marty's experience when he snuck on board before construction was completed.
Try not to drop anything into an unshielded thermal exhaust port.
The last time that happened… well, it wasn't good for the folks onboard.
The Lido Deck features pools filled with various liquids at different temperatures to accommodate diverse species of people and droids.
Swimming in a pool not designed for human occupancy may be fatal.
Finally, you risk your life if you call Rey "a drop of golden sun" to her face.
She does carry a light saber, you know.
Walt, Ub, X & Marty all contributed to this article, so we have plausible deniability about any particular item.
Do you know any facts no one else does? Let us know in the comments below!
Need more Uncle Walt's in your life? Be sure to LIKE us on Facebook, FOLLOW us on Twitter, and tell everyone you know!