Pulling down statues may prevent past "atrocities." Like Song of the South?
ANAHEIM, CA — The statue of noted oppressor Mickey Mouse was toppled last week at Disneyland, leaving many Disney fans asking, "What's next?" [Ed.: Actually, only a few asked "What's next?" The majority of questions we got after that article ran were, "Is this real?," followed by "What?," "Can I get Marty's number?," and "When does Disneyland Escanaba reopen?"]
Apparently, "what's next" may be the statue of the young Walt Disney at Disney's California Adventure Park and Spa, if one Twitter user gets her way. And her reasoning makes as much sense as anything these days.
Preventing the past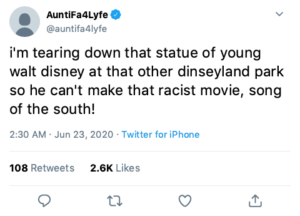 Known as "The Storytellers," the statue depicts a young Walt Disney as he might have looked upon arriving in Los Angeles in 1923. A Twitter user (usually referred to as a "Twit") named AuntiFa4Lyfe tweets that she will be removing the statue of Walt so "he can't make that racist movie, song of the south!"
In an effort to protect the statue, Disney's California Adventure will remain closed until July 17th, 2025.
Do statues at Disney Parks have magical abilities? Let us know in the comments below!
Need more Uncle Walt's in your life? Be sure to LIKE us on Facebook, FOLLOW us on Twitter, and tell everyone you know!
Cover photo: Is… is Mickey pointing to Walt, like "Take him! Take him first!"??? Because that's what it seems like. Photo by Steven Miller [CC BY 2.0] via Flickr & Pixabay.