Note: Replace this with something funny and witty. Or not.
Today's question:
"Hey Walt, what do you think of Walt Disney World becoming an all-inclusive resort? What are the pros and cons?" 
Submitted by George K., Winter Haven, FL
HI George,
Thanks for asking.
When we first broke the news, people cried about corporate greed, and how it makes this unaffordable for the working class, or even the middle class. We pointed out that parking was included, but the damage had been done and Disney backed down from the $1,000 a day (with parking!) to just $990 a day, without parking.
While $990 seems like a lot of money, you really have to understand the value for the money. So let's looks the pros and cons.
We look at the pros and cons
First up, the pros: Churros. All you can eat churros. That alone is worth it.
But also included is your room. A beautiful appointed room, located on the Walt Disney World property. Transportation to and from the parks! Admission to the parks! Churros at the parks! Right now, if you walked up to Churro cart 23 and ordered a Churro, it would cost you around six dollars. Do that a thousand times, and you're at $6000! You're already saving money!
Add in the other delicious foods — come on, O'hana is included in that! [Ed.: Ooo, I love their Irish food!] That's like $600 alone! Plus tip! And your ticket books for the rides are included! No more waiting in line at the ticket booth, then get in line for a ride only to find out you need four E-Tickets and you just have three, so you get back out and go back to the ticket booth line to wait again. I've seen it a million times.
Cream cheese pretzels are really bad
You know how much money it'll save me when the boys and I hit up the parks, and buy up all of the cream cheese stuffed pretzels so we can toss them and save people the displeasure of accidentally buying them. We used to feed them to the birds, but then PETA showed up. It was the one time we agreed with them that it was cruel and unusual punishment.
Now, the cons. Well, there is the money. I guess if you hitchhiked your way to Walt Disney World, snuck into the park, slept on a bench or a couch in a hotel (I recommend the Grand Floridian Lobby!), and limited your Churro intake (the horrors!), you could have a vacation for less than $1,000 a day.
But why would you? Why drink out of the water fountain when you can drink out of an environmentally friendly plastic bottle that you can just toss into the trash and get another one, all for the inclusive rate?
George, I can't find anything wrong with this change. I'm sure everyone will eventually come around as well when they realize that a Walt Disney World vacation is really priceless!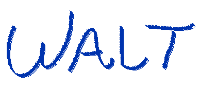 Is Uncle Walt getting kickbacks? Let us know in the comments below!
Need more Uncle Walt's in your life? Be sure to LIKE us on Facebook, FOLLOW us on Twitter, and tell everyone you know (plus a few strangers) how wonderful (and humble) we are!