"Ask Uncle Walt" is a regular feature of Uncle Walt's Insider: you ask, Uncle Walt answers!
Submitted by Philip S., Sydney, N.D.
Hi Philip,
Thanks for asking. It is no secret that a vacation to the Disney Parks and Resorts and Spas can be expensive. Since Ub recently asked for a raise, this got me thinking about how anyone, whether a family or singles, can afford a visit to one of these amazing vacation destinations.
Our crack team of reporters have talked about money saving tips in the past. And to be sure, these are extremely helpful tips and we urge you to study them carefully, and commit to memory.
But we know we can do more. In fact, it is my personal goal to make this post the de facto standard when it comes to obtaining a Walt Disney World vacation on the cheap. So I present to you my top three tips:
1. No multi-day tickets
First, take it one day at a time. Sure, the daily cost of a theme park entrances goes down the longer you stay, but that is where they get you. A 10-day theme park ticket works out to $44.50 a day — but your hotel easily costs you $200 or more a night! And you'll still be eating at the parks or your hotel. You're also tempted to buy souvenirs.
So stick to single-day tickets and plan accordingly! Also, don't splurge on park hopper tickets. That is the equivalent of the blackjack double-down, it's a risk not worth taking!
2. No annual passes
Second, annual passes are not worth it. Again, you'll be drawn in by theoretically saving money. Not true. I studied the purchasing habits of Marty, Ub, and X while they were at the parks. The amount of money spent in churros alone made the annual pass not worth it.
See, when you have the pass, you feel like you need to use it. When you go, you spend money. Honestly, I don't know where they are getting the money for airfare, let alone hotel. I really think these guys might have jobs outside of Uncle Walt's Insider…
3. Avoid hotel rooms
Third, let's talk about hotels. The lobbies are extremely comfortable and offer great places to stay. No need to book a room! Just sleep in the lobby! You'll get a natural wake up call as families are dragging their tired children out for rope drop, and you can get a step ahead of them by skipping the morning shower in lieu of water rides. Just make sure to bring soap, or take it off one of the housekeeping carts.
---
I know what you were really asking: what about special discounts offered by Disney? Or vacation packages?
Do you really think that Disney would be offering those things if they weren't actually the top profit-driving scheme they can cook up? Avoid them. Websites that track discounts? Do you really think they can keep their sites running for free? No, they are getting their money from somewhere. I'll give you one guess; actually I won't, let me just tell you. They are getting paid off by Disney. (That's why you can trust our information — Disney hasn't paid us squat. And believe me, we've asked!)
I hope this helps you save money on your next Disney vacation!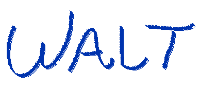 Do you have a question or comments for Walt?
Need more Uncle Walt's in your life? Be sure to LIKE us on Facebook, FOLLOW us on Twitter, and tell everyone you know (plus a few strangers) how wonderful (and humble) we are!