The Uncle Walt's Insider (Step) Moms Panel answers your real questions with their own totally reliable advice. [Lawyer-mandated disclaimer: do NOT rely on this advice. Our panel of experts may or may not be actual stepmoms, but they are definitely evil.]
"Dear (Step) Moms: Now that Walt Disney World has monorails, boats, buses, Minnie Vans, and gondolas, what is the next transportation system?" – Zachary V., Miami FL
Baby Yoda is now an official (Step)Mom (until he gets a better offer)!
X:
Sadly, not Segway Personal Transporters. Those are really fun to ride.
Harriet: 
Just don't go to Disneyland. There are already enough people there without you.
Walt:
Hi Vince, thanks for asking.
We already covered this a while back, but it's sidewalks and the good ole fashioned shoe leather express. Get some exercise!
Baby Yoda: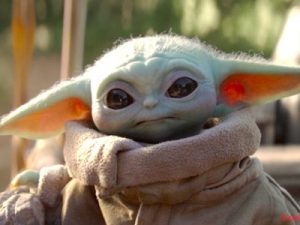 Marty:
I think you're wrong there, B.Y. My sources say Disney only has one functioning jet pack, and Bob Iger is hogging it.
Anyway, Saccharine, thanks for your question. I have some thoughts, but Ub is really the one with tons of connections in the transportation area. He and I have talked for hours, and it's fascinating what's coming next! But I'll let him tell it. Ub?
Ub: 
My sources say they're got the old equipment from Universal's Disaster/Earthquake ride and are going to build a subway.
Do you have a question for the Uncle Walt's Insider (Step) Moms Panel? Click here to submit a question.
Need more Uncle Walt's in your life? Be sure to LIKE us on Facebook, FOLLOW us on Twitter, and tell everyone you know (plus a few strangers) how wonderful (and humble) we are!.