The Uncle Walt's Insider (Step) Moms Panel answers your real questions with their own totally reliable advice. [Lawyer-mandated disclaimer: do NOT rely on this advice. Our panel of experts may or may not be actual stepmoms, but they are definitely evil.]
"Dear (Step) Moms: I will be staying in the hotel that looks like a toaster – the name escapes me right now. Do the rooms there have toasters? Thanks." – Diane M., Camden, NJ
Ub:
Hi Cami, and thanks for contacting the (Step) Moms! Your trip is fast approaching, and I can't think of a better way to celebrate than by going to Walt Disney World and having a Disneyland churro!
Of course, I still haven't figured out how to do that yet. But once I do, I'll be sure to let you know.
Ub:
Anyway, the resort where you're staying is actually called the Mister Toaster's Wild Ride Hotel, and it pays homage to a ride that used to be at the Magic Kingdom and can still be found at Disneyland. I suggest taking the Skyliner over to California during your trip, as they've made it so easy now. Just make sure you don't break down along the way, as Dopplemeyer ski lifts are known to do – they're just so complex.
Ub:
You'll want to pack some water. While there is water onboard, that is for emergencies only, and the fact that the Skyliner's top speed across the country is 15 mph does not technically count as an emergency.
I hope this information helps as you plan your trip!
Marty:
I think Ub has skipped a dose of his medication. Or taken two doses. I can never tell.
Anyway, Dana, it's called the Hotel LaCroix in Honolulu: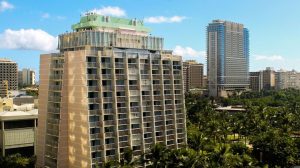 There are toasters at the fabulous LaCroix Bistro, but not in the rooms. You should bring your own!!
Harriet: 
Just don't go to Hawai'i. There are already enough people there without you.
Baby Yoda:

Walt:
Hi Max, thanks for asking.
It is very exciting that you have been asked to be the best man at your friend's wedding at the fabulous Disney Wedding Pavilion located at Disney's Grand Floridian Resort, Spa, Hair Care & Oil Change Facility! And yes, the toast is quite possibly the most important part of the wedding reception.
Just speak from the heart, but don't forget to tell that embarrassing story about the groom that is sure to bring loads of laughter as he cringes and his new bride looks on, wondering if she made the right decision.
And when you're done, head on over to the Magic Kingdom for a dozen or so churros to enjoy as you visit all of the best attractions that central Florida has to offer.
X: 
Hello Dianne. By no coincidence at all, the Toaster is located directly next to Disney's Bear Lake Tower hotel, a Disney Vacation Club property. As you can tell, the initials for Bear Lake Tower are BLT, and it's situated directly next to the Toaster. Have you ever had a toasted BLT? It's really quite a wonderful sandwich.
Ub:
As a pyromaniac, I love that advice, X.
Do you have a question for the Uncle Walt's Insider (Step) Moms Panel? Click here to submit a question.
Need more Uncle Walt's in your life? Be sure to LIKE us on Facebook, FOLLOW us on Twitter, and tell everyone you know (plus a few strangers) how wonderful (and humble) we are!.