The Uncle Walt's Insider (Step) Moms Panel answers your real questions with their own totally reliable advice. [Lawyer-mandated disclaimer: do NOT rely on this advice. Our panel of experts may or may not be actual stepmoms, but they are definitely evil.]
"Dear (Step)Moms: I understand that Disney is hightailing out of California for greener pastures in Texas. My question is, will my California Drivers licence still garner me the 20% locals discount? If not please tell me how the discount structure will work. Thank you for time." – John F., Rancho Santa Margarita, CA
Harriet:
Just don't go to Texas. There are already enough Californians there without you.
Ub:
Hello, Jim. Thank you for writing to the UWI (Step) Moms Panel. I'm glad to see that the post office hasn't moved from California. Yet.
And just a quick note: when you compare weather between California and Texas, it's hard to imagine greener pastures. Have you ever driven I-10 east of New Mexico? There's a reason why the speed limit is 80 mph.
As we've seen when Disney moved their parks to other states in the past, they would extend the discounts to local residents from the previous state before eventually sunsetting that program. Usually, they did this as the last monorail left the old state and they tore down the monorail beam behind it.
The bad news is that the California resident discount will be going away. The good news is that while they run the monorail through Arizona and New Mexico, those states will, for a brief time, feature in-state discounts on admission.
My suggestion would be to change your state citizenship to follow the monorail wherever it may go. Tee dum… tee dee…!
Walt:
Hi Joey, thanks for asking.
To be blunt, no, your CA drivers license will no longer work in Texas for discounts. It's really a matter of simple geography. See, California is not Texas. They are separated by Arizona and New Mexico. So California is not local to Texas.
I do have a question for you, I've translated the name of the city in which you currently reside. How magical is Santa's Margarita Ranch? Sounds like a wonderful place, sorta like La Cava del Tequila in the Mexico Pavilion at EPCOT. "Pepe's Especial, por favor…."
Oh, and Ub, they ditched the Monorail in favor of the Skyliner.
Marty:
True about the Skyliner, Walt, but they'll still have the monorail in Texas. And they'll have to get it here somehow. I foresee two possibilities: either they piggyback it on top of a 747 like they did the space shuttle — which would be awesome — or it's time for another monorail world tour.
Jean, I know that doesn't answer your question, but the others already have… incorrectly, as usual. The reality is that your California drivers license will be just as valid for local residents discounts in Texas as it is at Walt Disney World in Florida.
Enjoy your stay in the Lone Star State!
Baby Yoda: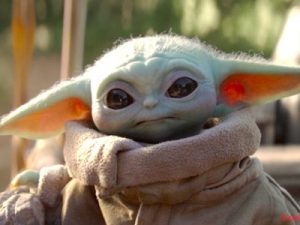 Marty:
Exactly.
Ub:
Walt, you obviously didn't get the memo. That Skyliner doesn't go from California to Texas. It's from California to Florida, with a stop in Terrell. Which is nowhere near where they're breaking ground for the Disneyland Texas park.
X:
California sure has some weird city names. Santa's Margarita Ranch, The Town of Our Lady the Queen of the Angels of Porcupines, City of Industry, and Burbank. Burbank! I'm not sure what I'm supposed to think about all that. Then again, New Mexico has "Truth or Consequences", so I'm not sure that's any better.
Anyways, what was the question? Something about resident discounts? You'll need to show a valid ID from the state, or a university in the state, or a utility bill showing your current address.
Ub:
I don't admit this often, but X is onto something.
Ugh. That was painful.
You have all of these cities in California named after someone. Santa Maria, San Fernando, Santa Barbara, Los Angeles (whose parents didn't like him very much), San Bernardino, San Francisco, San Diego, and Palm Springs.
Who, exactly, was Burbank named after? Or Bakersfield, for that matter?
Marty:
You both missed Badwater (named for Gary Badwater, former presidential candidate), Tarzana (named for Tarzan) (okay, that one actually is true), and my favorite, Zzyzx (named for the sound former President Reagan sometimes made during cabinet meetings).
Do you have a question for the Uncle Walt's Insider (Step) Moms Panel? Click here to submit a question.
Need more Uncle Walt's in your life? Be sure to LIKE us on Facebook, FOLLOW us on Twitter, and tell everyone you know (plus a few strangers) how wonderful (and humble) we are!.