The Uncle Walt's Insider (Step) Moms Panel answers your real questions with their own totally reliable advice. [Lawyer-mandated disclaimer: do NOT rely on this advice. Our panel of experts may or may not be actual stepmoms, but they are definitely evil.]
"Dear (Step)Moms: I live in Canada, and I'd really like to visit the new Disney park in Escanaba, Michigan. First, when do you think the border will open up? And what should I pack?" – Doug M., Thunder Bay ON
Harriet:
Just don't go to Disneyland Escanaba. There are enough people there without you, eh?
Marty:
Hi, Dan, and thanks for writing! I've actually been to Thunder Bay, and you'll be happy to know that the border where you are has never closed! It's just a quick swim across Lake Superior to the Upper Peninsula.
As for what to bring… floaties. Definitely floaties, unless you're a strong swimmer. (You might know them as 'poutine,' not floaties. I think. My Canadian is a bit rusty.)
X:
Hi Dougie! At this point it's clear that the U.S.A. doesn't really care about public health. So, you know, I'm thinking the reason the border is still closed is on the Canada side, eh? You might want to contact Mr. Trudeau or something.
Speaking of those hosers in the nation's capital, why did the Senators stop having Constable Lyndon Slewidge sing the national anthem at their games? He was, hands down, the best anthem singer I've ever heard at a sporting event. No doubt about it, eh?
Walt:
Hi Steve, thanks for asking.
Ignore X, he thinks that summer is anti-hockey cause it's hot and melts the ice. He also hopes the border opens up soon, since he's been threatening to move there for almost 4 years now, but keeps finding excuses not to. The Covid plandemic being the most recent.
Now, to actually answer your question. I do not think that introducing other fruity flavors of "whips" diminishes the value of the original Dole Pineapple Whip. That one will always be a top seller, and remain on the menu. I hope this helps in your vacation planning decisions. Have a magical day!
X:
Orange whip? Orange whip? 3 orange whips!
Walt:
I get the movie quote, X, but you could have at least ordered one for me. I thought we were friends.
Wait, NO! BABY YODA, THOSE AREN'T FOR YOU!!!
Baby Yoda: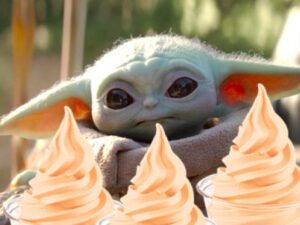 Ub:
My fellow Americans. It's important in these days of uncertain hockey that we not allow any thunder from Canada, down under, or anywhere else. We must take back what is ours, the heritage and pride that comes with owning our entire continent. And that is why I propose that as soon as I am elected, we will invade Toronto. Who's with me??!?
Marty:
I thought you were running for office in Svalbard. Very few Americans here, except for us. And we're certainly not voting for you.
Ub:
Svalbard? There's not nearly enough political power here. I need to run in America.
Marty:
Okay, cool. This should help: Best Places to Run in America.
Do you have a question for the Uncle Walt's Insider (Step) Moms Panel? Click here to submit a question.
Need more Uncle Walt's in your life? Be sure to LIKE us on Facebook, FOLLOW us on Twitter, and tell everyone you know (plus a few strangers) how wonderful (and humble) we are!.