The Uncle Walt's Insider (Step) Moms Panel answers your real questions with their own totally reliable advice. [Lawyer-mandated disclaimer: do NOT rely on this advice. Our panel of experts may or may not be actual stepmoms, but they are definitely evil.]
"Dear (Step)Moms: Other websites are saying Disney canceled their Halloween parties. If there's no official Mickey's Not So Scary Halloween Party when I go to Magic Kingdom, can I just throw my own party while I'm there?" – Girish P., Moscow ID
Harriet:
Just don't go to Walt Disney World. There are enough people there without you.
Walt:
Hi Greg, thanks for asking. How exciting that you want to go to a Halloween Party!
Every where I go, it's a party. So I see no difference for you and your friends. Just be sure to hand out plenty of candy. And the good stuff, not that budget bag of 8 billion pieces of crap candy.
X:
Hi Girish. If you're from Moscow, you know that vodka is colorless and odorless. Just swap out the water in your water bottle and you've got your party!
Marty:
Not so fast, Comrade! We're sick and tired of Russia trying to meddle in our elections, and our theme parks. You just tell Putin a big fat NO THANK YOU from Uncle Sam!
Baby Yoda: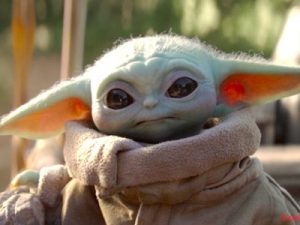 Marty:
Oh. Moscow, Idaho? … Never mind.
Ub:
[Off somewhere looking for a map.]
Do you have a question for the Uncle Walt's Insider (Step) Moms Panel? Click here to submit a question.
Need more Uncle Walt's in your life? Be sure to LIKE us on Facebook, FOLLOW us on Twitter, and tell everyone you know (plus a few strangers) how wonderful (and humble) we are!.