The Uncle Walt's Insider (Step) Moms Panel answers your real questions with their own totally reliable advice. [Lawyer-mandated disclaimer: do NOT rely on this advice. Our panel of experts may or may not be actual stepmoms, but they are definitely evil.]
"Dear (Step)Moms: You ran an article last week saying Minnie Vans would now go to Universal Studios. (At least, I think that's what it said.) How will that work exactly? Will I be able to call a Minnie Van from anywhere in the Orlando area? And is that better than just using Uber or Lyft?" – Rowina S., Orlando FL
X:
Hello Edwina. I don't know the answer to your question, but do you ever just get the urge to start singing John Denver songs like 'Take Me Home, Country Roads'?
Ub:
Hi, Weenie.
As your… uh… (Hey Marty, what am I running for again?)
Anyway, as your whatever that is, I'll make Minnie Vans available wherever you are. You will never have to wait for a Minnie Van, because there will be one assigned to you, and you'll simply gesture to them to come pick you up.
Now, there will be a slight tax increase to make this happen, but nothing is ever free.
And the best part is that just like any ghost, your Minnie Van will follow you home.
Hurry baaaaaaaaaaack! Hurry baaaaaaaaaaaaaaaaaaack! Be sure to bring your death certificate.
Harriet:
Just don't go to Walt Disney World. There are enough people using Minnie Vans there without you.
Baby Yoda: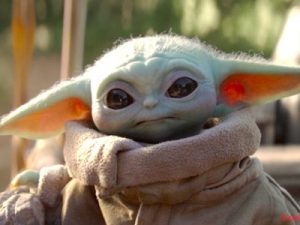 Walt:
Hi Fred, thanks for asking. I would avoid the Minnie Van, and take the Skyliner to the Monorail station. Take the Blue line to the central station and then transfer to the 113, 8th stop is for Universal. Enjoy!
Marty:
Yoo hoo! You can actually call a Minnie Van from anywhere. The farther you are, though, the louder you'll have to yell.
Do you have a question for the Uncle Walt's Insider (Step) Moms Panel? Click here to submit a question.
Need more Uncle Walt's in your life? Be sure to LIKE us on Facebook, FOLLOW us on Twitter, and tell everyone you know (plus a few strangers) how wonderful (and humble) we are!.