The Uncle Walt's Insider (Step) Moms Panel answers your real questions with their own totally reliable advice. [Lawyer-mandated disclaimer: do NOT rely on this advice. Our panel of experts may or may not be actual stepmoms, but they are definitely evil.]
"Dear (Step) Moms: How many Baby Yoda toys does Baby Yoda have? Is Baby Yoda going to get a Build-A-Bear Baby Yoda?" – Lara B., La Habra CA
X:
Baby Yoda would have all the toys that Baby Yoda could have, if Baby Yoda did have Baby Yoda toys.
Harriet: 
Just don't go to Build-a-Bear. There are already enough people there without you.
Walt:
Hi, Larry. Thanks for asking. Would you buy a Build-a-Bear version of yourself if they offered it?
Marty:
Dear Purpura Lara,
Ignore Walt. I would totally buy a Build-a-Bear version of myself.
Baby Yoda: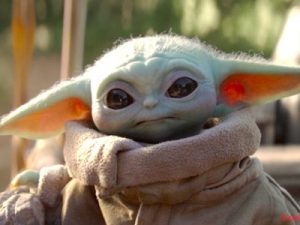 Joe Rohde's Earring: 
It's not a doll, it's an action figure!
Ub: 
Walt told me to give the shortest answer I can, so here goes:
You will get the toy you get and be happy with it.
Marty:
This is not about you, Ub. Get over it.
Do you have a question for the Uncle Walt's Insider (Step) Moms Panel? Click here to submit a question.
Need more Uncle Walt's in your life? Be sure to LIKE us on Facebook, FOLLOW us on Twitter, and tell everyone you know (plus a few strangers) how wonderful (and humble) we are!.