The Uncle Walt's Insider step-planDisney (Step)Moms answer your real questions with their own totally reliable advice. [Lawyer-mandated disclaimer: do NOT rely on this advice. Our panel of experts may or may not be actual stepmoms, but they are definitely evil.]
"Dear step-planDisney (Step)Moms: Will The Beatles: Get Back movie be released to DVD?" – Rory, Massachusetts
Marty:
Dear Tony, thank you for writing.
This is an easy question, one that calls for just a simple yes or no answer. Unfortunately, though, you wrote it to us, so keep reading for a lot of wordy, meandering responses that may or may not eventually answer your question.
Walt:
Hi, Ron. Thanks for asking.
Recently there has been a comeback for outdated technology. The youth of today have discovered things like vinyl records, and even cassette tapes. While this has mainly been in the music genre of entertainment, there has been a renewed interest in older video technology. Specifically, in video cassettes.
Our sources tell us that this will not be released to DVD, or that crap Blu-ray, but to the best video medium that ever existed: Betamax. Yes, that superior video technology is coming back. If you do not own a Betamax player, then VHS and both 8MM and 16MM reels will be available. Otherwise you're stuck to streaming! 
X:
Ever since John Lennon signed the paperwork to dissolve the Beatles while he was staying at Disney's Polynesian Village Resort (no spa) and Dog Grooming Salon, Disney and the Beatles have not been on good terms.
So, thanks to Yoko, no, there will not be a DVD release.
Harriet:
Just don't go to Walt Disney World. There are already too many people there without you.
Grogu: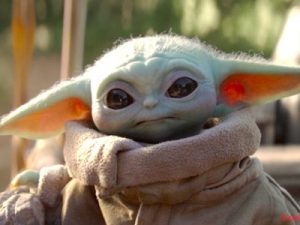 Marty:
Mass, I just realized that I didn't answer your question earlier. And then you got Walt saying the show would be released only on Betamax, and X saying it wouldn't be released because of Yoko Ono. (And Harriet with her usual deal, and Grogu with __.) If you're confused at this point, congratulations — that's pretty much the standard result when you ask us a question.
While we cannot be sure, I do like to contradict my coworkers, so I will give this answer: As long as Bob "Bob" Chapek is running Disney, and there is money to be made from a DVD release, you can bet there will be a DVD release.
Not sure if Ub will chime in on this question — he's off napping or valiantly fighting off viruses or something — but my guess is he'll say something different too (if he even manages to stay on-topic). Have a magical day!
Ub:
<<snore>>
Do you have a question for the step-planDisney (Step)Moms? Click here to submit a question!
Need more Uncle Walt's in your life? Be sure to LIKE us on Facebook, FOLLOW us on Twitter, and tell everyone you know (plus a few strangers) how wonderful (and humble) we are!.