Uncle Walt's Insider step-planDisney (Step)Moms answer your real questions with their own totally reliable advice. [Lawyer-mandated disclaimer: do NOT rely on this advice. Our panel of experts may or may not be actual stepmoms, but they are definitely evil.]
"Dear step-planDisney (Step)Moms: Will there be a crossover movie with Cars and Raya and the Lost Dragon and Moana and Frozen and Tangled and Garfield?" – Malikhi Brandon, Bellevue, NE
Marty:
Dear Brandy, thank you for writing.
A crossover with Cars, Raya, Moana, Frozen, Tangled & Garfield? Of course not, don't be silly. The Guardians of the Galaxy will be in it, too.
Walt:
Hi Ronaldo, thanks for asking.
Disney is not in the business of crossovers. They are in the business of ditching animation for live action. You can expect a live action movie from each of the aforementioned movies coming to a big screen near you! 
Marty:
Even Guardians of the Galaxy? Cool!
Walt:
Oh yeah, no special effects either, it's all real! Word is Elon Musk is flying everyone to space in his Tesla Starship.
Marty:
Sweet!
Grogu: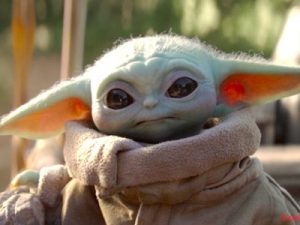 Marty:
What do you mean, you don't believe space travel is real?
Walt:
He's been this way since I took him to Space 220 and he said he couldn't see the space elevator; therefore we weren't really in Space. I explained to him that he is too short to see it, but you know how he gets sometimes.
Harriet:
Just don't go to space. There are too many Starlink satellites there.
X:
Even the SUV Dealers of America have never seen that many crossovers in one place. I'm not sure even Taika Waititi could write a script that jumps around as much as this one would need to. I can't see any major studio greenlighting this.
That being said, under Bob "Bob" Chapek, the Disney studios have sunk to all time lows. Gone are things like plot, character development, or character integrity*. As long as there's a dollar to be made, it'll be approved.
*Oddly though, the Star Wars franchise has actually gotten stricter about character integrity since Disney bought Lucasfilm. Case in point, the disappearance of Star Wars Weekends at Disney's Hollywood Not-A-Studios, and the excellent, underrated show, the Hyperspace Hoopla! (Hoopla!)
Ub:
Hello, Harambe. Thank you for writing in.
After the Jungle Cruise movie flop, I certainly don't see Disney making a movie about Kilimanjaro Safari. As X alluded to above, Bob "Bob" is removing storyline from everything – just like they did years ago on Kilimanjaro Safari. These days, it's more like a reverse parade. Or maybe an inverted parade. Just not an Upside Down parade – those only take place on Stranger Things. This is one of the few parades on Disney property where Mickey Mouse does not make an appearance. That said, there is a rock in the first savannah that many have said looks like [REDACTED] , but we recently discovered it's actually a tribute to Michael Eisner.
All of the baobab trees are real, even the ones with electrical outlets and doors.
Originally, the Dueling Dragons coaster at Universal was supposed to go through Ituri Forest, but on the test runs, they had several bad incidents where guests were injured by the helmeted Guinea fowl trying to dart between guests' legs as the coaster vehicles went by.
Finally, while the idea of A Jungle Cruise: Rise of the Resistance ride is intriguing, I'm not sure how you would get the boats to move the way you would need them to move. Some of the Jungle Cruise boats go upside down, which is not optimal for a Star Wars ride – especially if attacked by a Demogorgon! 
Do you have a question for the step-planDisney (Step)Moms? Click here to submit a question!
Need more Uncle Walt's in your life? Be sure to LIKE us on Facebook, FOLLOW us on Twitter, and tell everyone you know (plus a few strangers) how wonderful (and humble) we are!.