Uncle Walt's Insider step-planDisney (Step)Moms answer your real questions with their own totally reliable advice. [Lawyer-mandated disclaimer: do NOT rely on this advice. Our panel of experts may or may not be actual stepmoms, but they are definitely evil.]
"Dear step-planDisney (Step)Moms: Can you use a churro as a straw?" – Universal Orlando Resort

Walt:
Hi Universal Orlando Resort, thanks for asking.
We've actually tested this in our totally unique, and certainly not copied, Uncle Walt's Insider Food Blog. And yes, yes you can. 
Marty:
Uh, Walt, we kept telling you, that wasn't a churro.
Grogu: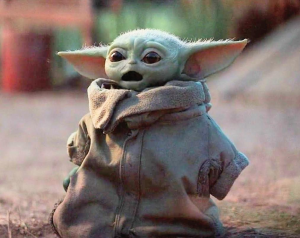 Walt:
That explains the lack of cinnamon-sugar flavored fried dough.
Marty:
Hello Mr. Resort. It's not often we have a theme park writing us! (Well, other than those Cease & Desist letters from Disney. We have tons of those!)
In answer to your question, it may be theoretically possible, but as a practical matter, it's too tempting to bite into the churro instead of sucking up whatever beverage you're enjoying. Stick to eating regular straws.
X:
You could, but should you? I have an Aussie friend, and she says the most Australian thing you can do is called a "Tim Tam Slam", where you take a Tim Tam (which is a sort of chocolate cookie), bite the corners off, and then drink a beverage through it. Not milk.
Tim Tams are actually really good.
But, if you've got a really good cookie, why would you want to ruin it with the taste of whatever beverage? Now, if it was milk I could understand, because who doesn't love cookies and milk? But other beverages? No thanks. I'll just eat my cookies.
What beverage could you possibly drink through a churro that would complement its delicious cinnamon sugar flavor? Maybe rumchata? Or caramel sauce? Maybe. But I still say just eat the churro on its own, and use an actual straw for beverages. (Not paper straws. Those things are the worst.)  
Marty:
For what it's worth, paper straws are more edible than the plastic ones. They just suck at, you know, being straws.
Harriet:
Just don't go to Universal Studios Orlando. There are too many people there without you.
Ub:
Hi there, Uni. Can I call you Uni? You may not remember me, but I feel we were once close enough that I can call you that comfortably.
So the answer to your question, it depends on the drink. I suggest rum. 
Do you have a question for the step-planDisney (Step)Moms? Click here to submit a question!
Need more Uncle Walt's in your life? Be sure to LIKE us on Facebook, FOLLOW us on Twitter, and tell everyone you know (plus a few strangers) how wonderful (and humble) we are!.