The Uncle Walt's Insider (Step) Moms Panel answers your real questions with their own totally reliable advice. [Lawyer-mandated disclaimer: do NOT rely on this advice. Our panel of experts may or may not be actual stepmoms, but they are definitely evil.]
"Dear (Step)Moms: Where do you come down on the whole mask debate?" – Anthony F., Washington DC
Baby Yoda: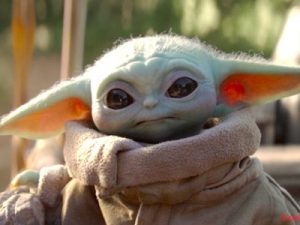 Baby Yoda: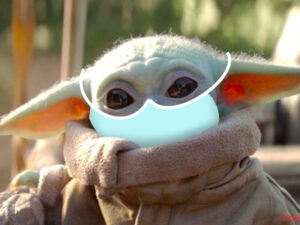 Marty:
Make up your mind.
Baby Yoda: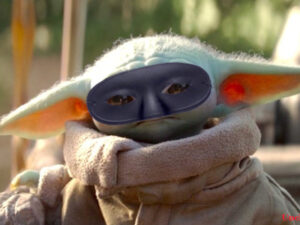 Walt:
Hi Tony, thanks for asking.
You have the right not to wear one, but a business has the right to require it and refuse service. Those are the freedoms we should enjoy in this country, not government mandates. Whatever side you end up on, just don't be a (anti) Maskhole about it!
Baby Yoda: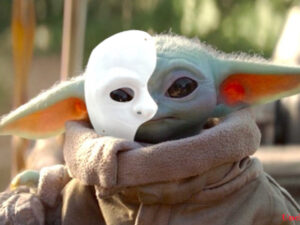 Marty:
Okay, now you're just messing with us.
Personally, I prefer it when Mickey, Goofy, Donald and the rest are wearing their masks/heads. It's creepy to see a character body with a Cast Member head.
The face characters are different, yes, but I get nervous around them because you have to talk to them. And a lot of them are girls. Princesses, even! Very intimidating to make conversation.
X:
Back before I decided that writing satire for a website with no source of revenue was a viable career option, I worked as a Zamboni driver. I've spent a lot of time in hockey rinks.
I saw one goalie go out for practice without his mask. Five minutes later (and they weren't even doing shooting drills), he's bleeding pretty badly from a cut on his face. Always wear a mask. Just look at the old time goalies like Jacques Plante or Terry Sawchuk. Always wear a mask.
Marty.:
If what you're saying is true, X, then… wait, we write satire?
Harriet:
Just don't go to Walt Disney World. There are enough infections there without you.
Ub:
Hello, Anton. I come down wherever the plane drops me off. Usually, I use a parachute, and usually it opens. But if the parachute ever doesn't open, I'll have the rest of my life to get it working. I love skydiving, but in my political campaign I don't have much time for it these days. But if you donate just $500 to my campaign, I'll take you skydiving with me.
Also, if you know a good skydiving instructor, I'd really love to get into skydiving. I mean, who wouldn't love for their… uh…
Hey Marty, which office am I running for again?
Anyway, that office. Who wouldn't love their politician in that office to be bad at skydiving?
Do you have a question for the Uncle Walt's Insider (Step) Moms Panel? Click here to submit a question.
Need more Uncle Walt's in your life? Be sure to LIKE us on Facebook, FOLLOW us on Twitter, and tell everyone you know (plus a few strangers) how wonderful (and humble) we are!.