The Uncle Walt's Insider (Step) Moms Panel answers your real questions with their own totally reliable advice. [Lawyer-mandated disclaimer: do NOT rely on this advice. Our panel of experts may or may not be actual stepmoms, but they are definitely evil.]
"Dear (Step)Moms: What has surprised you most about Disneyland since it has reopened? (I assume you've already been there several times.)" – Deena Wilson, Bend OR
Marty:
Disneyland has reopened? Yeah, right. I've been fooled before. You're not getting me with that line again.
Grogu: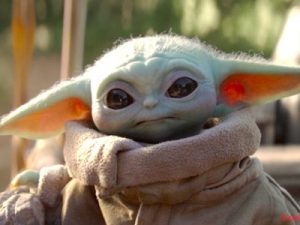 Marty:
Still not buying it.
Walt:
Hi Dean Wilson, thanks for asking.
I've often wondered what it would be like to run a university. My signature on all of those diplomas, getting paid for not doing anything, and that building they name in my honor when I die. You're a lucky man! Go Hogs!
Ub:
Hi Dan. I am so glad Bend, Oregon, has reopened! Along with the great year-round sports, such as skiing in the summer and inner tubing down the Deschutes River in the winter, what review would be complete without a mention of the fantastic breweries like Deschutes, Immersion, Sunriver…? Oh, and one of my favorites, 10 Barrel (make sure you try their Swill when it's in season) — it's one of the few places I can visit and know I'm going to get an IPA that I love.
But the most surprising thing, to me, is the Blockbuster Video that's there. Even after all of these years, it still has the Blockbuster smell. You know what I'm talking about. Some of our younger readers might not know what I'm talking about. But the rest of you will.
X:
What surprised me the most? They didn't jack up the prices as much as they could have. With limited capacity, you know that demand is going to be high, and people are starved for entertainment, they'll pay whatever price you ask. But Disney didn't go ultra greedy.
Harriet:
What surprised me? The people. Oh god, so many people.
Just don't go to Disneyland, there's enough people there already. (No, seriously, they've already reached capacity for the day.).
Do you have a question for the Uncle Walt's Insider (Step) Moms Panel? Click here to submit a question.
Need more Uncle Walt's in your life? Be sure to LIKE us on Facebook, FOLLOW us on Twitter, and tell everyone you know (plus a few strangers) how wonderful (and humble) we are!.