The Uncle Walt's Insider (Step) Moms Panel answers your real questions with their own totally reliable advice. [Lawyer-mandated disclaimer: do NOT rely on this advice. Our panel of experts may or may not be actual stepmoms, but they are definitely evil.]
"Dear (Step)Moms: Now that Walt Disney World is back open, do you have any advice for having fun there?" – Edwin S., Roanoke VA
Walt:
Hi Eduardo, thanks for asking.
Not really, all of the fun has been sucked out of everything.
Marty:
Can't totally agree, Walt. Because apart from the attractions, Walt Disney World has always been a great place for people-watching. And although everyone's face is half-covered now, you can have still enjoy folk's reactions.
Personally, I enjoy launching into a hacking cough any time someone nervous-looking comes near me. The look of panic as they grab their children and run away from you is so entertaining!
And it's completely harmless, too. If a Cast Member ever approaches you to ask if you're ill, you just point to your water bottle and say some water 'accidentally went down the wrong way.'
Have fun!
Baby Yoda: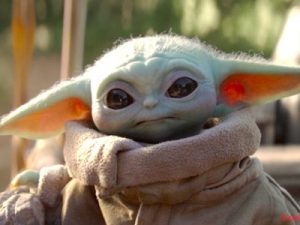 X:
Hello Eddie. Good to hear from you.
I recommend going to all the live shows. Festival of the Lion King, Tarzan Rocks, Spirit of Pocahontas, Comedy Warehouse Holiday Special, American Idol Live, and The Hunchback of Notre Dame: A (Stan) Musial Adventure. All of them are great shows, and will keep your family entertained for hours.
Harriet:
Just don't go to Walt Disney World. There are just the right number of socially-distanced people there without you.
Ub:
Hello, Ederolf. Your question finally made it to the front of the line. Congratulations!
People are lonely, and I can't think of a better way to make them feel better than to go up and give everyone you see a great, big hug. Maybe even position your hands so you pop their back while they're at it. After a day of walking around the parks, nothing feels better than having your back popped with a big hug. At least, that's what my wife tells me.
For added enjoyment and faster queue times, start out by going to the parks that are closed while everyone is at the parks that are open. Make sure and take a forged Cast ID so that they let you in.
X:
Oh! Don't forget about the automated people movers at the Orlando airport. More fun than a barrel of monkeys!
Do you have a question for the Uncle Walt's Insider (Step) Moms Panel? Click here to submit a question.
Need more Uncle Walt's in your life? Be sure to LIKE us on Facebook, FOLLOW us on Twitter, and tell everyone you know (plus a few strangers) how wonderful (and humble) we are!.