The Uncle Walt's Insider (Step) Moms Panel answers your real questions with their own totally reliable advice. [Lawyer-mandated disclaimer: do NOT rely on this advice. Our panel of experts may or may not be actual stepmoms, but they are definitely evil.]
"Dear (Step) Moms: I've been trying to follow the whole impeachment story, but I'm having trouble knowing what to believe. I'm deeply concerned about what this means for our country. What do I need to know about impeachment, and how do you think this affects our nation in 2020 and beyond?" – Carl W., Lincoln NE
Harriet: 
Just don't go to Walt Disney World. There are already enough people there without you.
Marty:
Great question, Diane! Of the Deluxe resorts, I can never decide between the Wilderness Lodge and the Polynesian Village. Both are completely immersive and beautiful.
If your budget is a bit tighter, you can't go wrong with Disney's Pop Century Resort — especially now that you can take the Skyliner to Epcot and Hollywood Studios.
Whichever you choose, have a great trip!
Baby Yoda: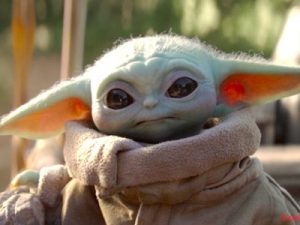 Walt:
Hi, Diane. Thanks for asking. I've stayed at so many great places, but our two favorites have to be Disney's Grand Floridian Resort & Spa or Disney's Polynesian Resort. The Grand Floridian has that classic resort feeling, upscale, but not snooty. The finishes in the room add to that charm. The Polynesian Resort reminds me of family trips to the Hawaiian islands. The sound of water is all around, and lush gardens surround you as you head to your room. Both are on the Monorail loop that gives you quick and easy access to both the Magic Kingdom, and Epcot via the Ticket and Transportation Center.
Disney's Wilderness Lodge and Disney's Animal Kingdom Lodge also have extremely immersive theming and they tend to be a bit less expensive if you're looking for a deluxe resort that won't completely break your budget.
No matter where you choose to stay, you'll enjoy that amazing Disney service. Have a magical vacation!
Ub: 
Hi Diane! Oh, I love questions like this. And obviously, I like places where I have easy access to churros. However, that's not at any resort, so until they fix that, here's my take:
I love staying at Bay Lake Tower, with the proximity to Magic Kingdom, the ease of access to the Monorail and water transportation, and so many great activities, not to mention the other resorts around Bay Lake and the Seven Seas Lagoon. However, be advised that the rideshare pickup for the Magic Kingdom is outside BLT, so in the evenings it kind of looks like a homeless camp.
You can't beat 'Ohana and the ability to procure Dole Whips at Disney's Polynesian Village Resort. At 'Ohana, I have some wonderful memories of time with friends and a drink in a pineapple. It was so tasty, you have no sense of the alcohol in it whatsoever until the drink is nearly gone!
At the same time, I absolutely love staying at Animal Kingdom Lodge. It's rare to find a resort where you'd rather be on a lower floor than a higher one. To come home to your resort and spend hours on the balcony looking at the animals is a wonderful experience.
I'm guessing I haven't made your decision any easier, but I know one thing that can: I don't normally recommend buying into timeshare anywhere, but I hold a special place for Disney Vacation Club. With dozens of resorts to choose from as well as Disney Cruise Line, you'll probably never actually use the trade benefits with other resorts around the world, but you can if you want to. Which, let's face it, would be kind of weird on your part, but it's your choice.
Sorry my answer is not more helpful, but I am confident that wherever you choose, you'll have a wonderful time.
X: 
I am a huge fan of Disney's Polynesian Village Resort. It has the most laid-back vibe of any resort, it's conveniently located to the Magic Kingdom, and also a short walk to the Transportation and Ticket Center, where you can take the monorail to Epcot Centre and Spa. Plus, you can walk or boat to Disney's Red Roof Inn.
Do you have a question for the Uncle Walt's Insider (Step) Moms Panel? Click here to submit a question.
Need more Uncle Walt's in your life? Be sure to LIKE us on Facebook, FOLLOW us on Twitter, and tell everyone you know (plus a few strangers) how wonderful (and humble) we are!.