The Uncle Walt's Insider (Step) Moms Panel answers your real questions with their own totally reliable advice. [Lawyer-mandated disclaimer: do NOT rely on this advice. Our panel of experts may or may not be actual stepmoms, but they are definitely evil.]
"Dear (Step)Moms: I was rejected for the Disney Parks Moms Panel. Can I join the UWI (Step)Moms panel? Please?" – Amy A.
Ub:
Hi Andie, it's great to hear from you again.
No.
Hope that helps!
Walt:
Hi Andrew, thanks for asking.
Due to Covid, we're not looking for new 2020 panelists, but look to apply in 2021!
Marty:
Actually, Arnie, you absolutely can apply. Emphasis on 'apply.' Not suggesting we'd reject you out of hand, but like Disney, we require that you have visited Uncle Walt's Insider headquarters in Svalbard within the past 12 months. (Two years if you arrive by cruise ship.) And since no one has ever visited us — ever! — it's doubtful that you meet the minimum qualifications.
So… Step One: come see us in Svalbard! Then Step Two: apply afterwards. Then and only then will we have to address the question of whether we'd ever hire DPMP rejects such as yourself.
Have a magical day!
X:
We accept bribes. Preferably food. That may help influence our opinion.
Walt:
Not just any food. Churros. Cream cheese filled pretzels trigger automatic disqualification.
Ub:
Hi Andrea. It's me again. Quick request. Thanks for the reminder, Marty & X. It's not often I have something to thank them for.
If you come, please bring sandwiches. I love sandwiches.
Walt:
But no mayo on my sandwich, and just regular yellow mustard. And chips! The kettle cooked ones, BBQ flavor.
Marty:
And when Walt says 'just regular yellow mustard,' he means it. That's all he wants on the sandwich. Two pieces of bread and some yellow mustard between them. It's the weirdest thing.
And if you bring some then Baby Yoda or I won't have to make them for him that day.
Baby Yoda: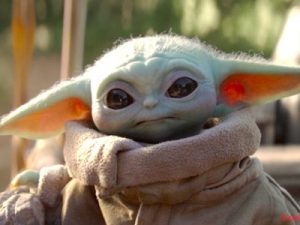 Marty:
Exactly.
Walt:
Look, I lived through some tough times, but I learned from it. However, we never went cheap on the chips. Never.
But seriously. Just bring Churros.
Do you have a question for the Uncle Walt's Insider (Step) Moms Panel? Click here to submit a question.
Need more Uncle Walt's in your life? Be sure to LIKE us on Facebook, FOLLOW us on Twitter, and tell everyone you know (plus a few strangers) how wonderful (and humble) we are!.