The Uncle Walt's Insider step-planDisney (Step)Moms answer your real questions with their own totally reliable advice. [Lawyer-mandated disclaimer: do NOT rely on this advice. Our panel of experts may or may not be actual stepmoms, but they are definitely evil.]
"Dear step-planDisney (Step)Moms: I tend to overpack when I go on vacation. When I next travel to Walt Disney World, what do you suggest I absolutely have to bring? And what can I leave behind?" – Suzy Moffett, Ogden, UT
Walt:
Hi Mark, thanks for asking. Underwear.
Oh! Chargers/batteries for your phone, camera, videocamera, gimbal, ECV, SUV, KGB, and an electronic toothbrush.
Marty:
Walt, I don't want to bring your personal travel habits into this… but please clarify if "underwear" is on the "have to bring" or "leave behind" list.
Walt:
Yes. Good day!
Grogu: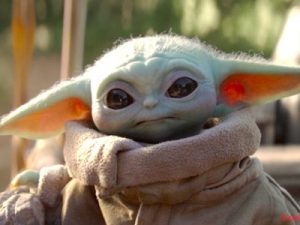 Ub:
Hi Steven, What a great question!
First, I suggest bringing your Doctor, and make sure he brings his Sonic Screwdriver. You never know these days when you'll need to reverse the polarity of Spaceship Earth.
Beyond that, with the recent ride vehicle shortages, it's a good idea to have your own Doom Buggy along, as it is a universal ride system vehicle, and can operate on any attraction at the Walt Disney World Resort.
Finally, we suggest bringing a book, as there's not much to do at Disney World. Hope that helps!
Oh! And bring your daughter. She's really pretty. Her husband can come as well. After all, he is my favorite Doctor.
X:
Being comfortable shoes. Leave your family at home, you'll have more fun without them. Bring 1 (but only 1) bottle of sunscreen. Don't bring bottled water.
Harriet:
Leave yourself. There are already enough people there without you.
Do you have a question for the step-planDisney (Step)Moms? Click here to submit a question!
Need more Uncle Walt's in your life? Be sure to LIKE us on Facebook, FOLLOW us on Twitter, and tell everyone you know (plus a few strangers) how wonderful (and humble) we are!.