Pictured: screenshot of a live feed from the Magic Kingdom.
WALT DISNEY WORLD, FL — Disney fans everywhere, deprived of the ability to visit their favorite parks, are looking for any way to get their theme park fix. They turn to YouTube for virtual rides and LEGO bricks to build their own theme parks.
But one gamer has apparently discovered the "Holy Grail" — a way to visit an exact replica of Walt Disney World as it exists today! We contacted online gamer "babaganoush" after he tweeted this week that he'd discovered a virtual Walt Disney World.
Just like being there!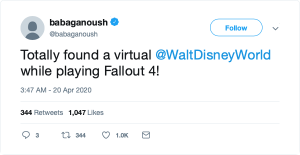 In his tweet, babaganoush said he found a virtual Walt Disney World while playing Fallout 4. Fallout 4 is a single-player game set in and around the post-apocalyptic city of Boston. The game offers multiple expansion options – including the "Nuke-World" add-on.
While we're unable to test this ourselves, we're 100% sure that the Nuka-World add-on is a 100% identical copy of Walt Disney World and how it currently sits today!
Good advice even during a normal WDW visit
If you plan to visit Walt Disney World, take caution of the various raiders that have reportedly set up camp inside the park. Be sure to wear your Power Armor, and drink plenty of purified water. (Prop 65 warning: drinking purified water is known to the State of California to cause cancer or birth defects or other reproductive harm.)
It's quite possible that Fallout 4 will become the go-to virtual experience for Disney fans — and a cost-effective one at that! The cost to purchase and play Fallout 4 and all of the add-ons, including Walt Disney World Nuka-World, is currently at $23.99. Admission to virtual Walt Disney World is $116.09 for a single day ticket, or $185.31 if you wish to park hop. If you want to purchase the Park Hopper Plus option, those tickets are $206.61 for a single day ticket. Of course the price per day gets better with the more days you buy.
At press time a Fallout 4 season pass was not available, but Disney did say they will offer a virtual season pass for virtual Walt Disney World, currently branded as Nuka-World, if demand increases.
Will you help or fight the raiders? Let us know in the comments below!
Need more Uncle Walt's in your life? Be sure to LIKE us on Facebook, FOLLOW us on Twitter, and tell everyone you know!
Cover photo: A current photo of the Magic Kingdom. Screenshot of Fallout 4 (modified) from ChikaHitujiya via Twitter.