Seasoned Pro

Posts: 910
Joined: Fri Nov 13, 2009 3:07 pm
Last year, I had intended to spend my birthday at Disneyland. Unfortunately, an infected gall bladder delayed my plans. However, this year, I will be there starting on 9/23 through 9/27, with a break on Wednesday to visit Universal Studios! Yea!
---
Admin

Posts: 3
Joined: Fri Sep 28, 2018 7:57 am
Park: Uncle Walt's Insider
Department: All of them
Position: Head Honcho
Contact:
Awesome! Have a churro for us!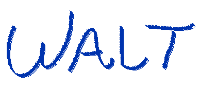 ---
Seasoned Pro

Posts: 910
Joined: Fri Nov 13, 2009 3:07 pm
---