Be safe and have a great holiday season, and see you in 2019!
---
Permanent Fixture

Posts: 4150
Joined: Tue Jan 09, 2007 1:01 pm
Park: ktululand
Department: Custodial
Position: Janitor
Location: Texas
Contact:
Merry Christmas!
"People can drink coke and pepsi, but they can't pee in the street."

812114
---
I'm currently at the Orange County Research Center for a medical research study, from the 2nd to the 13th of January. Great food, better TV, wifi, a real bed, showers that work like they're supposed to, with no time limits...but I digress. Oh, not to mention peace and quiet. And I'm getting $3025 after the end of it. Wish I could do a few more of these high-paying studies--they're closing the Courtyards (shelter where I live) in October, moving us to a new facility. The former bus depot will be torn down to make a parking structure for the event center that's being built across the street. I wish I had my own place.
---
So, how was everybody's Christmas and New Year's? Inquiring minds want to know!

---
Permanent Fixture

Posts: 4133
Joined: Sat Feb 08, 2003 3:00 pm
Park: WDW
Position: retired
Location: 8 miles east of Spaceship Earth
Contact:
Ours were a bit surreal. We spent them aboard a cruise ship off the coast of South Africa.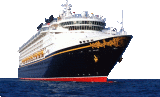 The food was worse than normal, the champagne and caviar more available, and the loud entertainment louder and more obnoxious.
Other than that, and bad weather that caused us to skip two countries (out of three), we had a great cruise.
The week in Cape Town was less enjoyable due to bad planning and a travel service that either no-showed or took us to the wrong places. We are having words!
On the plus side, we had zero grief from our families!

---
Permanent Fixture

Posts: 10546
Joined: Fri Nov 05, 2004 4:45 pm
Park: DLR
Department: Fruity Drink Land
Position: Mai Tai Face Plant
Location: 717 Miles NNW Of DLR
I haven't been this cold in fifteen years.
Don't be fooled by appearances. In Hawaii, some of the most powerful people look like bums and stuntmen.
--- Matt King
Stay low and run in a zigzag pattern.
---
Practically Lives Here

Posts: 1509
Joined: Mon Jul 05, 2004 12:46 am
Location: Salt Lake City, Utah
Did Christmas Eve with my fiancee's family and it was great, his parents gave us a 2 piece luggage set in preparation for our honeymoon. Then we did Christmas with my family and my parents gave us money for the standard dolphin swim package at Discovery Cove that we're doing as part of our honeymoon. Christmas actually works out really well for us because his family has always focused on Christmas Eve and mine does Christmas Day.
We were invited to a couple of New Years parties, but decided to just stay in and watch youtube videos.
Now we're just under 4 months out from the wedding, really getting into crunch time. We mostly just need to get our guest list done...
---
Permanent Fixture

Posts: 5131
Joined: Thu Jul 22, 2004 2:00 pm
Department: Offsite Harmony
Position: Back Row Baritone
Location: Dallas area
Contact:
December was a bit...
challenging.
We got through our usual array of church and Vocal Majority performances just before Christmas. Then I came down with the flu on Christmas Eve, which eventually turned into bronchitis and borderline pneumonia. I'm only now feeling back to normal again. My wife then caught the flu from me. And in the midst of this, our older, newly married son had major surgery to remove a baseball-sized pre-cancerous tumor from his pancreas and basically re-plumb his digestive system. There were many good parts to the holidays, and we have a close, loving family, but we'd rather not relive those few weeks if we have a choice!
---