Practically Lives Here

Posts: 1509
Joined: Mon Jul 05, 2004 12:46 am
Location: Salt Lake City, Utah
And it's done, I'm now married! We had a friend perform the ceremony and it was beautiful. We wrote our own vows, well, I wrote my own vows, he came up with them on the spot. When it came time to exchange rings, he gave me the wrong hand, I just went with it at the time, but now it's something else I can tease him with. Afterwards, some friends were talking about how if they had made bets about which one of us would choke up more that they would have lost the bet, because it was definitely me, and they would have bet on my husband. Next up is the honeymoon, heading out Wednesday evening, I think the highlight will definitely be the Disney cruise of the Mediterranean, it will be the first cruise for both of us, and the first time to Europe for both as well. But for now, need to work on getting the refrigerator cleaned out so we don't have nasty stuff growing in there while we're gone for almost 3 weeks.
---
---
---
Practically Lives Here

Posts: 1509
Joined: Mon Jul 05, 2004 12:46 am
Location: Salt Lake City, Utah
Got home from the honeymoon late last night and it was amazing, even if Florida was way too hot!

We left May 15th and headed to Reno to enjoy a convention we go to every year, it was it's standard thing so not much to say there except that we don't plan to fly to this convention ever again and that we had to leave early, on May 19th.

We left May 19th to head to Orlando. We happened to connect through Salt Lake City and unfortunately our connecting flight was delayed about 2 hours (that was a common theme for the entire trip) meaning we landed around 7:00 AM on May 20th. I had planned for us to have the Shamu Stadium lunch that day so we headed to the park after checking into the hotel (I had us checking in on the 19th so we could go straight to our room). It was so hot, we went back to the hotel after lunch and didn't return to SeaWorld at all. We did spend time in the hotel pool though so that was pretty nice. We did make it to Discovery Cove on May 22nd and it was amazing! I had booked us a private cabana and it was so nice having somewhere calm we could just go and relax. My husband says it is now his favorite place to visit in Orlando!

We left for the airport on May 23rd pretty early, and once again out flight was delayed, roughly 3 hours delayed. This was rough because they were telling us to get there as if it wasn't delayed, but they certainly acted like it was delayed. They had a huge line of people waiting to check in but refused to do any of that because "the flight is more than 4 hours out because of the delay." Combine this with the fact that they had changed the connecting flight we originally booked a couple weeks before we left and made it impossible for us to catch, not a great first impression of Norwegian Airlines. We did eventually make our flight and arrived in London just before our connection...They actually had so many people connecting through that they delayed the connecting flight to allow us to make it because rebooking that many people would have been impossible.

Needless to say, we made it to Barcelona on time on May 24th and again spent the rest of the day in the hotel. The hotel offered a cruise package which included breakfast in the morning and transportation to the cruise terminal, so we didn't have to worry about any of that, and we boarded the Disney Magic on May 25th.

OMG, the cruise was fantastic! I had never even considered going on a cruise, the stereotypical image isn't something that ever interested me, but I can't wait to go on another one, though I'll probably stick to Disney! We had dinner at Palo on the first night, and it kind of ruined the food for us the rest of the cruise, not that the rest of the food was bad, just that Palo is on a completely different level.

On May 27th we had a port adventure in Sorrento and visited Pompeii. I needed to have done more research on what to do in Sorrento because we had a lot of free time and didn't know how to use it, it kinda felt like they went there just to get you to buy things. We had originally planned a different excursion, but it had to be cancelled pretty last minute so I didn't get into the research I needed. Pompeii was interesting, but things kind of blended together there because they had removed most of the artifacts and so a lot of the rooms were just empty rooms. That's not to say that there wasn't anything we enjoyed there, we probably just would have enjoyed seeing Herculaneum more.

On May 28th we had the port adventure that actually sold me on going on the cruise in the first place, The Best of Rome, and OMG, I need to go back. The biggest problem with this excursion is that it's go go go. We started with the Colosseum, went inside, walked around upstairs, and got a good look at it. The common theme of this excursion was "More Time," I would have liked a little more time to look around the Colosseum. From there we walked towards the Trevi Fountain, having various things pointed out to us along the way. Again, some more time to see what was being pointed out would have been nice, but just more to see to justify another, extended visit. We had a few minutes at the Trevi Fountain for pictures and to throw in some coins before we headed to lunch. Lunch was included in this excursion, but the restaurant forgot the entrees for a couple of people which delayed us a bit. After lunch it was back on the bus on our way to the Vatican Museums. OMG! More time please! Our time here was so short, I would have loved to spend all day just there, so much fantastic artwork and history! We worked our way around to a point where our guide was hoping we could take the short path to the Sistene Chapel, but it was closed. Fortunately! This meant we had to wait in line through a lot of rooms with more amazing pieces we would have missed, even if it did push our time table further out. Seeing inside the Sistene Chapel was incredible, absolutely beautiful! Next was St. Peter's Basilica, and once again, amazing, but more time would have been wonderful. After that it was back onto the bus to get back to the ship. We were running so late that they actually called ahead just in case, but we made it back with 5 minutes to spare before the all aboard time, and we think there was still a tour group that left after us that we waited for...and yet I still think a few people missed the ship.

On May 29th we visited Florence. We visited the museum which houses Michelangelo's David, and again we were just kinda rushed through except when it came to the David. The city was interesting, but that was really the highlight. We spent a lot of time walking random streets.

On May 30th we were in Villefranche, but we didn't have any excursions planned so we just enjoyed the ship.

We returned to port on June 1st and had an excursion up to Montserrat. This was not a good excursion for us... There was so much emphasis placed on seeing La Moreneta which after everything else we had done wasn't anything special, but waiting in the line to see it took pretty much all of the free time we had there. After that we ended up walking over to where the buses were parked so we could go and see the amazing view from where we were. The bus took us to our hotel and we were so exhausted, our plans of doing some site seeing around Barcelona on our own died.

Yesterday, we had an early taxi to the airport, for another delayed flight...way to go Norwegian Airlines... Fortunately I planned ahead enough that we still had enough time to make our connection in Oakland on a different airline. That was such a long day...

I will absolutely visit some of these places again, and I will absolutely do more Disney cruises, now I just need to figure out when...
---
Breaking news! I have a new grandnephew, Andrew David! He arrived last week. Gotta build up the Amazon account--more toys for Christmas this year!
---
Had a look at the birthday listings for today.... man do I miss when this forum was more active. Sad to think SGT has gone this far down, activity-wise....

---
Admin

Posts: 6
Joined: Fri Sep 28, 2018 7:57 am
Park: Uncle Walt's Insider
Department: All of them
Position: Head Honcho
Contact:
It's the way of the internet. Not enough advocates within the parks, and places like Facebook being used instead of private forums, which cost money to run in most cases. It is sad. We have some plans for SGT, just moving slower than we'd like, but it is moving. Sadly, the forum will probably be a small part of it, unless we decide it's just going to go into archival mode and become part of Internet history. Stay tuned, and be sure to check out the SGT parent website,
https://unclewalts.com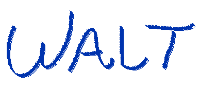 ---
The other day I dropped my phone, and now it doesn't work. Ordered a new one through my carrier, and it should arrive soon. Does anybody know how I can get my contacts off my old phone? I tried looking it up on the internet, but they all say for Android or Iphones, and it's neither of those. And no, I didn't link my phone to my computer. I gleaned some information that it's possible, but where should I go? Ask my favorite computer store? Look on Yelp for someone who does phone repair? And how much would it cost? I also have some pictures on it, which if necessary I can do without. But I gotta have my contacts. Can anyone help?


---
Permanent Fixture

Posts: 10537
Joined: Fri Nov 05, 2004 4:45 pm
Park: DLR
Department: Fruity Drink Land
Position: Mai Tai Face Plant
Location: 717 Miles NNW Of DLR
Someone at the carrier should be able to help you.
Don't be fooled by appearances. In Hawaii, some of the most powerful people look like bums and stuntmen.
--- Matt King
Stay low and run in a zigzag pattern.
---
There's a good chance to get your contacts and other data back if you find someone that does phone repair and, if needed, who can retrieve data from broken electronics. It's even cheaper than you'd expect sometimes.
---